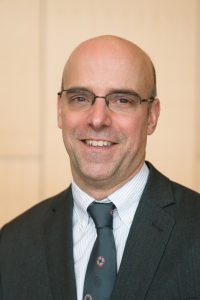 Dr. Brian V. Souders, '09, '19 has served as UMBC's Fulbright Program Advisor since 2009. He has worked with hundreds of UMBC students on their applications for Fulbright and other prestigious scholarships during that time. He has also served on the executive board of the National Association of Fellowships Advisors, the professional organization of fellowships advisors.
He earned a bachelor's degree from Indiana University in Political Science and Slavic Languages and Literatures and a Masters' degree from the University of Illinois at Urbana-Champaign in Political Science. He earned a doctorate from UMBC in the Language, Literacy and Culture Program, as well as a Master's in Teaching of English to Speakers of Other Languages. He lived two years in Finland – as a high school exchange student, and later as a Finnish Ministry of Education Scholarship recipient. He attended two intensive Russian-language study programs in Moscow, and worked for a year in Tallinn, Estonia as a research affiliate with the Estonian Academy of Sciences under the auspices of the Foreign Language and Area Studies (FLAS) graduate fellowship program.
You can schedule an appointment with UMBC's Fulbright Program Advisor by e-mail at fulbright@umbc.edu.